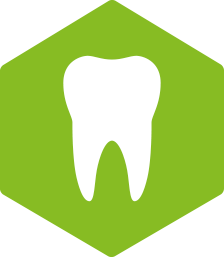 Dentistry services for optimal oral health
At Hohde, your care is coordinated by an interdisciplinary team of experts. We are committed to offer top-quality dental care using the latest information and technology. We treat customers of all ages flexibly and by catering to their special needs. Hohde clinics have been awarded the Key Flag as a sign of services produced in Finland.
Welcome to an annual check-up
At the annual check-up, we check the occlusion and make sure that your teeth, gums and oral mucosa are in the best shape possible. Regular visits help us ensure that the teeth and gums feel and look good and remain healthy. Any early symptoms can be addressed immediately to prevent them from turning into more serious health issues.
Specialised care for patients with dental anxiety
If visiting a dentist causes you fear or anxiety, please let us know so that we can address your needs at every step of your treatment. Hohde dentists are happy to provide alternatives for standard procedures. All phases of the treatment are thoroughly explained in advance to make you at ease. Modern pain relief provides good alternatives, from gentle local anaesthesia to general anaesthesia.
Services offered by Hohde clinics include the following:
• Check-ups
• Cavity treatments
• Root canal treatments
• Ceramic restorations
• X-rays
• Local anaesthesia
• Cone beam computed tomography (CBCT)
• Tooth extraction
• Dental implants (artificial root treatments)
• Orthodontics
• Dental prosthetics
• Dental treatment under general anaesthesia
Some of the services mentioned above are offered as Hohde's specialist services. Read more about our specialist dental services.