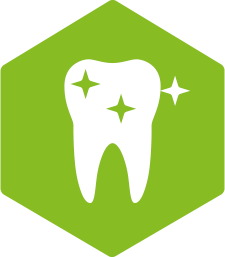 Ceramic restoration – for durable and natural end results
For proper occlusion, it is very important that molar fillings are able to withstand the pressure of biting. Plastic fillings wear down easily and may crack after a few years. Ceramic fillings are durable and also feel and look natural.
Beautiful teeth and a bright smile in a single visit
Cerec is an example of an advanced CAD/CAM technique used for restoring damaged or filled teeth discreetly and comfortably.
The end result closely matches the feel and appearance of your natural teeth. Compared to traditional ceramic fillings and crowns prepared in a laboratory, Cerec treatment is cheaper. It can be performed over a single visit without impressions, temporary fillings or long waits.  
The method can be used to fabricate various dental restorations, such as fillings, crowns, veneers and implants. After root canal treatments, it is recommended to protect your teeth with a ceramic crown to make sure they remain durable and do not fracture over time.
Who is ceramic restoration suitable for?
Ceramic restoration is suitable for everyone. As a biological material, ceramics do not cause allergic reactions. It is recommended for badly damaged teeth and for other tooth defects as well as for root canal patients.
How is the treatment done?
Ceramic restoration starts with grinding the area to be treated as well as scanning it. The images are then developed to create a 3D model of the filling or the crown. Once completed, we mill a restoration that will sit perfectly in its place. Final modifications are carefully made by hand to ensure that the end result looks perfectly natural. Finally, the new filling or crown is attached and checked for comfort and bite.